Do you ever wonder why everywhere you go there is a structure that is being followed? Let's say eating in a restaurant you will find all these crew – one standing behind the cash register, two are in the kitchen, three are at the dining area. When you visit a hospital, its doctors and nurses also follow a structure or system to properly perform an assessment. Even when you attended school, you are expected to follow to a structure base on the structure of your class representatives. These are just a few of the hundreds of structures that you follow. Some is so seamless you do not even notice or you have just become accustomed to it.
Through the decades worth of experience providing business solutions to various companies, our team has managed to value the importance of organizational structure in business. We have learned the significance it provides to the businesses and its potential to make the company succeed. We have been sharing this to different companies to ensure that we are providing the best service which means taking into account even the smallest details.
Structures are there for a reason. It is like pieces of information/materials that are intended to be followed. Some may see it as a guide to a plan which should be complied by everyone within its premise. It is an integral part of any organization so it can operate and perform its task accordingly. Otherwise, there will be a lot of clash and success may be out of reach. Can you just imagine a construction site without a blueprint being followed by the laborers? I don't know about you but I am 100% sure four things are bound to happen namely chaos, wasted resources, overlapping of duties, and a lot of failures. 
We want to avoid all that at all cost because it is every business owner is aiming to make a successful company. An important component in your entrepreneurial journey is to orchestrate an organizational structure which provides a major contribution to your business. 
What is Business Organizational structure?
Business Organizational structure is an outline that is meant to demonstrate the hierarchy, roles, and functions of all the people included in your organization. It is a visual chart that enables you to identify which among these bunch of people are reporting to the owner, executives, manager, and officers. Another purpose of using an organizational structure is that it indicates what is expected from the whole company and the people composing it.
Your business organizational structure also serves as your framework to guide everyone taking part in it on how the business should operate. When the designations are clear, you can effectively fill the position with the right person who can create smart and valid decisions. Apart from that, it defines which among your staff work best together, has strong chemistry, who can handle working alone, or even whom among your people cannot work together. Through this, you are armed with information to balance your staff and your business operation all at the same time. When you have business organizational structure, your company becomes more flawless, systematic and smoother in terms of operating. It gives you the benefit of avoiding overlapping of duties, inconsistencies, and most especially missed tasks.
The significance of a Business Organizational structure
Some do not make use of this guide because people within that business has grown into it and became accustomed to their roles. However, our take on this is that problems may arise that can compromise your business operation. Remember that our main objective as business solution provider is to enable you as a company to perform at its utmost capacity. Hence, it is vital to have an organizational structure.
Furthermore, having the right kind of organizational structure allows your company to maximize the time and effort you all bring towards your clients by efficiently providing services. You can achieve this if you everyone within your organization has a distinct role to play and a list of coherent responsibilities to fulfill.   
With the absence of an organizational structure, it will disrupt the workflow of your business because of the unorganized distribution of work; unclear method of communication; slow accomplishment of tasks; no proper governance to all employees. All of these can harm your daily business operation and can take a toll on your reputation as a company. I am sure you do not want this to happen hence the construction and proper implementation of your organizational structure is highly needed in business management.
Even if it is a small detail about building and managing a business, this structure is a big step to take in effectively planning out how to achieve your goals for the business.
There are types of organizational structure for every type of business – small companies, start-ups, big and complex businesses, etc. If you value your business so much, find out below what is the best kind for your own business.
Kinds of Organizational Structure
There are different kinds of organizational structure that best fits various kinds of businesses. Finding the most suitable kind depends on the needs of your company and the process of how your staff function.
There are three main types namely Functional Structure, Divisional Structure, and Matrix Structure. Let us briefly go over to each one.
1.       Functional Structure – If you are handling a medium to big company, it means that there are different departments involved, several managers reporting to you as the business owner, and various people are working under each department. It shows how each functional area is separately divided to one another. If this is the case, Functional Structure may be the best option for you to use as a format for your org chart.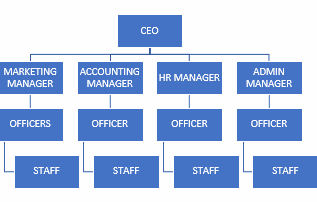 It is basically a straightforward chart that demonstrates the functional areas of the company, the roles of each person, which department each one belongs to, and to whom reports to who. At the top of the chart is you, the business owner who oversees the whole organization. Below that position are the leaders or managers of each functional department. They are all connected to the CEO which means that these leaders of the functional departments directly report to you. As you further look down the chart, you will see the officers and staff working under each department. 
Be mindful that there are pros and cons that you must consider before jumping in your org chart. First key advantage of this kind is that coordination of information is precise. You only have to share project information to the people within your department while your manager will escalate it to the CEO.  Second, most likely, your staff under that specific category have the same professional background and training as everyone else. Meaning, conflicts can rarely happen. Third, efficient productivity among the employees because they function in a specialized setting – if you are under marketing, you work on marketing efforts only; for accounting, you work on company finances.
On the contrary, the employment growth of your staff can be limited because they are not exposed to other activities outside their realms.
2.       Divisional Structure – This type of organizational structure is similar to Functional Structure. The only key difference is that each division has its own areas of resources. This suits a big company or a conglomerate that has one or multiple subsidiary companies.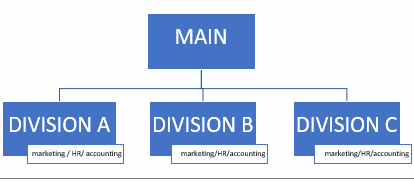 You can notice in the chart above that each division has its own key areas of a business. Under the Main company are Divisions A, B, and C which represents different entities. For example, a land developer. The main company sits on the CEO position and under it are its different specialties dedicated to commercial buildings, residential projects, and construction firm. Each specialty has its own key areas of resources to fully supply them with the things that allow them to perform such as marketing efforts, human resources, and financial support.
I can name a few pros and cons that you should weigh before getting started. For the former, each division can operate as a solo unit because it has the resources it needs to function as a company/division. Second, managers and leaders have the freedom to decide immediately and avoid any delays.
As for the con, since there is one corporation that is responsible to distribute the needs of each division, allocation of monetary and non-monetary resources can become unstable. Aside from that, it is not cost-efficient because of the duplication of workforce.
3.       Matrix Structure -   This format is suitable for companies that work on a project with different needs to carry out. It involves more than two managers or bosses that a project team has to report to in order for it to fulfill a task. It is a vital organization format when knowledge and skills have to be exchanged across different key areas or departments.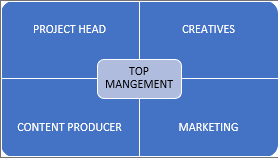 Let's say you are running a publishing company. We can safely assume that for you to publish a magazine, you have to prepare and get the content approved by the top management. Each key department in the diagram above are working with one another and exchanging information to accomplish the upcoming magazine issue. Outside them is the staff who is similarly coordinating data across different departments and several managers to carry out their duties.
Here out some pros and cons I gathered for you to study. For the pros of this format, the employment growth of your staff is present as they are exposed to different kinds of activities outside their specialties. Second, you   can maximize time as decisions can be made real time with the help of proper coordination.
On the other hand, this type of organizational structure can become chaotic. Since almost everyone is reporting to various managers and team heads all at the same time, coursing through of information can be disorganized hence can implicate your business operation and projects.
How to create your own Organizational Structure
I prepared some guide questions that will help you determine information that you need in creating a business organizational structure. I created a step-by-step procedure for you to follow when you make your own so take good note of this.
1.       Identify your current business structure – Take a look at your current business set up. Do you have multiple departments simultaneously working? Do you have one or several managers leading the key areas of your business? How about your staff, to whom are they reporting to?
2.       Choose the best type of Organizational Structure – Now that you have the three main kinds of Organizational Structure, you can determine which among these is the most suitable one for your company.
3.       Identify the key areas of your business – What are the essential departments that you have? Is your marketing department performing well? Do you need a separate department for graphic design? Or ask yourself, do you need a finance department to look after your funds?
4.       Roles and responsibilities to fulfill – Now that you have successfully determined the important departments in your business, move forward to the specifics of these departments. What are job and tasks that has to be fulfilled in particular? Example, who is responsible for online marketing, offline marketing, or strategic calendar planning for the whole year? List down one by one the job description of each staff working under that department.
5.       Know the strengths and weak points of your staff – It is significant as well to know your employees. You must be able to have a connection with them to build trust which is important in a workplace. Be observant and notice what are their strengths and weak points in their duties. From there, you can create balance by finding out who works best with who, who can efficiently get a job done alone, or which among them is versatile enough to handle big responsibilities?
6.       Fill it up – Now that you have gathered the information needed, you can start filling up the org chart that you chose. As time flies, you will be needing to change the structure. Do not worry about mixing it up from time to time as you will find business and employment growth in this.
To cap this off, your organizational structure brings value to your business. Even if you have people working with you for a long time and are used to how your company works, it is better to be safe than sorry.  Issues regarding this can arise sooner or later and we want to limit that as much as possible. With this new guide, you can prevent that from happening.